Feb
21
Thu
Lunch & Lecture Series: Ride Along the Wabash

@ TCHA History Center
Feb 21 @ 12:00 pm – 1:00 pm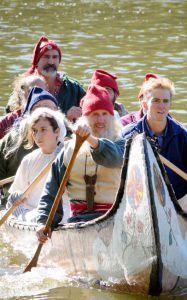 "Ride Along the Wabash." The Wabash River was formed about 14,000 years ago by glacial melt waters and has been shaping our lives ever since. It brought the voyageurs and the first settlers to our area and is the reason for Lafayette's existence. It has suffered abuse over the years, but is recovering through the efforts of municipalities, industry, the agricultural community, and concerned citizens. It has been, and is becoming again, an unparalleled source of natural beauty, recreation, and commerce. Join Wabash Riverfest Event Organizer, Gene Hatke, as we explore the Wabash River.
Snacks and beverages will be available for purchase or bring your own brown bag lunch.
Feb
27
Wed
Workshop Series "Scrapbook into History"

@ TCHA History Center
Feb 27 @ 6:00 pm – 7:00 pm
Join TCHA Facilities and Membership Director, Megan Lee, as you go beyond standard scrap booking techniques to preserve your memories. Learn plenty of tips and tools to help you document your history.
Admission: $10 per person and $5 for TCHA members.
Additional material costs may apply based on workshop.