A Famous Artist in Our Backyard
A Famous Artist in Our Backyard by guest blogger Angelina Fielding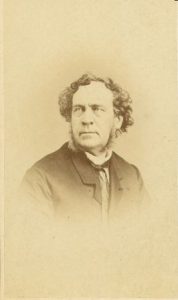 Buried in the Greenbush Cemetery are the remains of the famous frontier artist George Winter. Winter is known for his paintings of nineteenth century Pottawatomi and Miami Native Americans who lived in the Wabash Valley. He worked both in watercolors and oils, and created landscapes and portrait paintings. Winter left a collection of letters and manuscripts, along with his art, that offer us a glimpse of Indiana's early history.
Born in Portsea, England in 1810, Winter enjoyed creating art from an early age. His family encouraged his endeavors, and helped him find his footing in the art world through an admission at the Royal Academy in London. After spending 4 years in London where he acquired very little academic training in the arts, Winter removed to America in 1827. He first arrived in New York in 1830 and joined the National Academy of Design. By 1837, Winter had relocated to Indiana.
Living first in Logansport, Indiana, Winter moved to Lafayette in 1851 and lived here (except for a short stint in California) until his death in 1876. It was during his stay in Indiana that he created a series of paintings depicting Native American life in the region. Perhaps the most famous of all of Winter's paintings is the portrait of Frances Slocum. Slocum was abducted in Pennsylvania by warriors of the Delaware tribe, and had become part of the tribe by the time Winter arrived to paint her portrait. Through his paintings and writings, he was able to record both the ordinary and the extraordinary days on the frontier, including the removal of the Pottawatomi and Miami tribes from the Wabash Valley to Kansas.
Winter's paintings and writings are now held by the Tippecanoe County Historical Association (TCHA). Mrs. Cable G. Ball, the wife of Winter's great grandson, donated the paintings, along with Winter's other drawings and writings, to the TCHA in 1986. The collection held by TCHA makes for the most comprehensive set of Winter's work anywhere in the world. You can now admire Winter's art work and pay a visit to the artist who lays at rest right here in Lafayette.
In collaboration with Purdue University Libraries, a digital collection of George Winter's works and writings is available online. Visit the Purdue University Archives website to browse the collection.