Public Programs
The more you connect with Tippecanoe County history, the more it comes to life.
Stay connected, you don't want to miss out! TCHA offers unique opportunities to engage with the past, whether you prefer lectures, tours, informal meet and greets, or interactive demonstrations, we'll have something for you. So jump in – ask questions, offer opinions, listen, learn, and tour. We are constantly working to make the past enjoyable and accessible for you, so check out our programming calendar for the program that's right for you.
For information on our 50-300 Celebrations, click here.
Jun
10
Sat
Fort Ouiatenon Blockhouse Open

@ Fort Ouiatenon Historic Park
Jun 10 @ 1:00 pm – Aug 27 @ 5:00 pm
Jul
22
Sat
Civil War Living History Event

@ Tippecanoe Battlefield Museum and History Store
Jul 22 @ 10:00 am – Jul 23 @ 9:00 am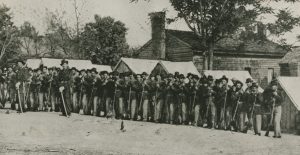 The Camp Tippecanoe Civil War living history event will take place the weekend of July 22 & 23 at the Tippecanoe Battlefield. More than 30 Civil War reenators will be portraying a company of the 72nd Indiana Volunteer Infantry. The regiment was mustered in at Camp Tippecanoe in Lafayette in July of 1862. Reenactors will replicate camp life at Camp Tippecanoe as they muster in and learn the basics of drill and musket firings. Inside the Tippecanoe Battlefield museum, there will be special presentations on aspects of the Civil War scheduled for every other hour. 
Program Schedule:
SATURDAY – July 22
10:00 AM – Recruits march into camp and then election of officers and NCOs
11:00 AM – (Camp Kitchen): "They Marched on their Stomachs: An Intro to Civil War Food and Rationing" – D.J. Tucker, Programs Director, TCHA
12:00 Noon – Issue of weapons followed by drill and instruction of load in nine times; bring everyone together for load in nine times; then firing demonstrations/instruction
1:00 PM – (Museum Program Room): – The life of a Union Civil War soldier – Craig Hadley, Executive Director, TCHA
1:00 PM – Period food mess call for the soldiers
2:00 PM – Close order drill and manual of arms
3:00 PM (Museum Program Room):– Camp Tippecanoe – Craig Hadley, Executive Director, TCHA
4:00 PM – Bayonet Drill"
SUNDAY – July 23
10:00 AM – Inspection of troops
11:00 AM – Period Church Service
NOON – Event over
Aug
19
Sat
Ouiatenon Preserve Walking Tour

@ Fort Ouiatenon Historic Park
Aug 19 @ 10:00 am – 11:00 am

Get a rare look at the archaeological site of historic Fort Ouiatenon with a walking tour of the Ouiatenon Preserve: A Roy Whistler Foundation Project. Join archaeologists and historians to learn about the layout of the site, the archaeological work that has been done there and the plans for the site's future as an archaeological preserve.
Located on a hidden drive near 3900 South River Road, look for signs to direct you where to enter and park.
This is an outdoor experience on unlevel ground. Please wear walking shoes and appropriate clothing. We recommend you bring a water bottle, sunscreen and bug spray. An umbrella may also be helpful to block the sun. The walk is not far, but the location is an open field with no shade or seating.
In the event of severe weather or heavy rains, the event may be canceled.