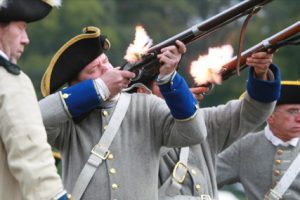 The program, entitled "Firearms at the Fort" will be a discussion and live – fire demonstration of historic firearms of the 18th century frontier.  The program will be led by Rick Conwell, manager of the Tippecanoe Battlefield Interpretive Center and History Store, with the support and cooperation of the National Muzzle Loading Rifle Association.
Visitors will have the chance to:
Examine and handle, (with supervision), several original and reproduction arms.
View firearms related artifacts from TCHA's collections which were excavated at the site of Fort Ouiatenon during the 1970's.
Learn how a flintlock works, both from the inside and out, and, btw, why do they call it a "lock", anyway?
Learn the differences and similarities between a musket, a rifle, and a "trade gun", and the military, social, and economic rolls each played in daily life at the fort.
Examine the equipment and accessories peculiar to each type of arm, along with how each is safely loaded, fired, and maintained.
Discuss the technological progress that led to the development of modern firearms as we know them today.
Find out what a "Kentucky" rifle is, how it got the name, why the barrel is so long, and how far it will shoot.
Learn what we mean by "guage" and "caliber".
Find out how to tell if it's loaded, and how to safely extract a load.
The program will be held at the west picnic shelter near the boat ramp. The Ouiatenon  blockhouse will also be open, set up to resemble an early French trading post and staffed with historical interpreters in period clothing. So bring a picnic lunch, if you like, and make it an afternoon of historical fun and education.