School and Group Programs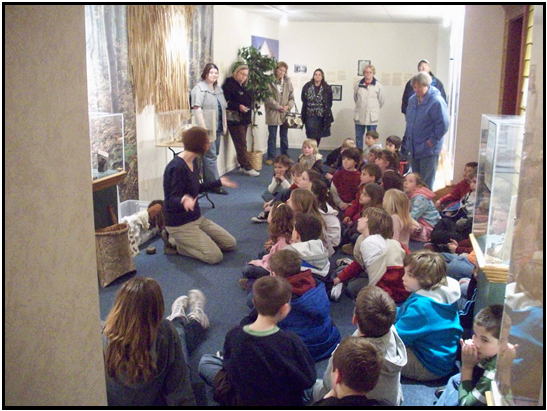 Unlock History
Tippecanoe County has a rich history that is locally and nationally significant. TCHA offers a variety of hands-on interactive programs to unwrap history for your students. All programs meet many of the K-12 social studies standards. Cost is $5 a student for the first program scheduled and $3 for each additional program. Minimum of 12 students per program. For more information call 765-476-8411, extension 4 or email programs@tippecanoehistory.org.
Some Helpful Tips for scheduling your TCHA programs:
Programs must be scheduled at least 3 weeks in advance.
No programs will be scheduled two weeks before or one week after the Feast of the Hunters' Moon, check website for annual dates.
If your group is late, your time will be reduced accordingly.
Plan extra time in your visit for bathroom breaks, a walk around the park, or to shop in The History Store.
Please call one week in advance for cancellations if possible.
Make a day of it! Schedule a program with the Tippecanoe County Parks Department Naturalist at 765-567-2993, Prophetstown State Park at 765-567-4919, the Farm at Prophetstown at 765-567-4700 or the Art Museum of Greater Lafayette at 765-742-1128.
To reserve a picnic shelter at the Tippecanoe Battlefield Park or Historic Fort Ouiatenon Park, call the Tippecanoe County Parks Department at 765-463-2306.
Students will step into Indiana history at one of the state's most important sites: the Tippecanoe Battlefield, located at 200 Battleground Avenue in Battle Ground, Indiana. Listen to the story of the two cultures that came into conflict here. Explore the aftermath of the Battle, from the War of 1812 to William Henry Harrison's election as President, through artifacts and displays. Discover Woodland Indian lifestyles and culture. Learn how the pioneers traveled to Tippecanoe County in the early 1800's. Make history come alive at the Tippecanoe Battlefield through hands on and interactive learning experiences!

Programs at the Tippecanoe Battlefield Museum are available from 9:30 am to 4:30 pm every day of the week, except Wednesday. The Museum and History Store are closed on Wednesdays.

Conflict of Cultures: Explore the Battle of Tippecanoe! Through an interactive discussion students will learn about the factors leading to the Battle, the primary characters involved, the major impacts of the Battle, and take part in a dramatic account of the Battle. This is a 30 minute program. This program covers Indiana Education Standards 4.1.3, 4.1.5, 4.1.6, 5.1.7, 5.3.7, 8.1.1 8.1.13, 8.1.27, USH.1.2
Day in the Life of a Soldier: Have you ever wondered what it was like to be a citizen soldier in the days of flintlocks and tomahawks?  Students will learn about soldier life in the early 1800s. They will explore martial  culture and everyday life through interactive discussion and hands-on activities. This 30 minute program will seek to honor the memory of all those that shouldered a musket in the tumultuous times of that age.

The staff ride tour is a military training exercise in which participants, (active or reserve duty personnel, officer training or ROTC classes) conduct a detailed study of a military action based on classroom and field instruction.
The program normally assumes that participants have studied the staff ride handbook for the Tippecanoe Battlefield, titled To Compel with Armed Force, by Maj. Harry Tunnel, USA, and available for download from the Combat Studies Institute at the U.S. Army Command and General Staff College, battleoftippecanoe.com
The program includes a welcome and orientation session by TCHA staff ride volunteers, a tour of the museum, and time for questions, answers, and interaction. The final phase is a walking tour of the battlefield itself. Commanders may choose to have this phase of the program interpreted by TCHA personnel, but many choose to assign responsibility for discussing the details of the battle to their own troops or cadets as they progress around the field.
Cost of the program is $4.00 per person, and the tour can take from two hours to half a day, depending on the participants' schedule.

Enter the world of Fort Ouiatenon, the first fortified European settlement in Indiana, and discover the variety of people and cultures that came together at this historic site. Learn about the history of Fort Ouiatenon, explore the fascinating fur trade, and appreciate the challenges of life as a colonial habitant or native resident. Introduce your students to one of the most fascinating periods of Indiana history through hands-on and interactive programs! Components of the program may vary. Fort Ouiatenon Historic park is located at 

3129 South River Road, West Lafayette, Indiana

.

 

The Blockhouse at Fort Ouiatenon is an outdoor experience and space is limited to groups of 30 people or less. Programs at this location are only available April through mid- September and mid- October through November.

 

Natives and Newcomers

Program details coming soon

 

These program kits are available for teachers to check out for 1 or 2 weeks for use in the classroom for the flat fee of $25.00 per program, per class. Kits can also be requested and performed for Tippecanoe County schools by a TCHA staff person for the fee of $2.50 per student per program.

Timeline and Maps: Construct a timeline in your classroom! Teach your students the history of Tippecanoe County from 1700 to the present through this fun, interactive timeline activity. As you go through history, compare Indiana maps to see how the state developed. This program can be borrowed from the Tippecanoe County Historical Association or presented to your class by a TCHA staff person. The kit includes a presenter's guide, yarn, clips, and cards with dates and historical information; various maps and a variety of images illustrating different time periods, events and people in Tippecanoe County history are included. This program covers Indiana Education Standards 2.1.1, 2.1.2, 2.1.3, 2.3.6, 3.1.2, 3.1.4, 3.1.5, 4.1.13, 4.3.9, 4.3.10, 5.3.9, 8.1.26, USH.1.5, USH.1.7, USH.2.8

Places and Faces: Step into the lives of some of the most influential people of Tippecanoe County. Learn about the founding of the community, people responsible for helping the county prosper and places of historical significance. This program goes well with the Timeline and Maps program and can also be borrowed from TCHA or presented to your class by a TCHA educator. The kit includes labeled images, a presenter's guide, and activities. This program covers Indiana Education Standards 2.1.3, 3.1.2, 3.1.4, 4.4.7, 4.5.4

The Frank Arganbright Genealogy Center is a valuable resource for teachers and students. It houses a wealth of primary and secondary materials pertaining to local and Indiana history. The center is the perfect place for teachers preparing history lessons and compiling resources, or for students preparing research papers. Guided class research trips are available upon request.

For details about how you can bring the museum to you, click here.

The Feast of the Hunters' Moon is a re-enactment festival portraying life at Fort Ouiatenon from 1717-1791. TCHA offers two special days at the Feast of the Hunters' Moon for school groups. Registration opens in late April.

Thursday is "Special Kids Day" reserved for special education students. Students with special needs come for the day to participate in 18th century life on the Ouabache.

Friday is "Feast Friday Fun Day" reserved for fourth grade students studying Indiana history. Students visit a variety of re-enactors, craftspeople, and entertainers making history come alive!
Mark your calendars for these dates! Watch for your invitation in the mail this spring, or call (765) 476-8411 extension 4 for more information or reservations.