The more you connect with Tippecanoe County history, the more it comes to life.
Stay connected, you don't want to miss out! TCHA offers unique opportunities to engage with the past, whether you prefer lectures, tours, informal meet and greets, or interactive demonstrations, we'll have something for you. So jump in – ask questions, offer opinions, listen, learn, and tour. We are constantly working to make the past enjoyable and accessible for you, so check out our programming calendar for the program that's right for you.
Exciting new programs coming in 2018 to be announced in December 2017!
Feb
21
Thu
Lunch & Lecture Series: Ride Along the Wabash

@ TCHA History Center
Feb 21 @ 12:00 pm – 1:00 pm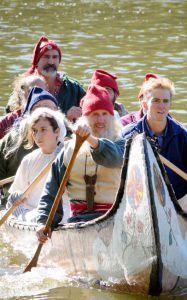 "Ride Along the Wabash." The Wabash River was formed about 14,000 years ago by glacial melt waters and has been shaping our lives ever since. It brought the voyageurs and the first settlers to our area and is the reason for Lafayette's existence. It has suffered abuse over the years, but is recovering through the efforts of municipalities, industry, the agricultural community, and concerned citizens. It has been, and is becoming again, an unparalleled source of natural beauty, recreation, and commerce. Join Wabash Riverfest Event Organizer, Gene Hatke, as we explore the Wabash River.
Snacks and beverages will be available for purchase or bring your own brown bag lunch.