James F. Alexander by Quentin Robinson
I recently received a letter from a historic preservation consultant working on a history and assessment of two houses in Moline, Illinois, which were owned by members of the John Deere family. She was hoping I might be able to help her track down some information.
She wrote: "We know quite a bit about the construction of one of our houses, but the second is bit more mysterious. We have found some correspondence in the Deere company archive that indicates this second house was designed by James F. Alexander (aka J.F. Alexander), but unfortunately we have not been able to confirm this."
"As I'm sure you know, there is relatively little concrete biographical information out there regarding Alexander. I've been able to find documentation for plenty of his educational and civic buildings, but not much when it comes to residences, and absolutely nothing related to our house in Moline."
I told her I'd be happy to see what I could find in the archives at TCHA that might help her. What I found was just as she had said….very little information. In fact, aside from the fact that he was an architect, and that he had some connection to the construction of our current courthouse there was virtually nothing. No family file existed for him, no biography in any of our county histories, no obituary listed. I started looking for more information about him, on Ancestry.com I found only one brief family tree which had been posted about him and his immediate family by our very own Ben Ross. I started trying to follow him in census records, and city directories and then searching newspaper archives for obituaries for he, his wife, and his two sons. Along with newspapers I did some basic Google searches, both for him personally and also using the name of his firm J.F. Alexander and Son.
What I learned was that James F. Alexander and his firm were responsible for many buildings in Lafayette. Not just the courthouse, in fact his involvement with our courthouse was as a superintendent of construction, not as the architect. But other buildings I recognized were of his design. Probably the two that most everyone from Tippecanoe County would be familiar with would be the Lafayette Life Building at the corner of Main and Third, and the Lafayette Bank and Trust Building at Main and 4th. The Brown Street Methodist Church and 9th and Brown, the old Centennial School, Washington School, Oakland School at Main and Kossuth, the old Lafayette High School which had been located at 6th and Columbia and was last used as the Lafayette City Hall until 1958. At least a couple of buildings on the Purdue Campus, the layout and design of the original buildings at the Indiana Veterans Home, and the original layout and design of the buildings at the Indiana State Fairgrounds in Indianapolis. Many homes built in and around Lafayette between 1880 and 1917 were designed by Alexander.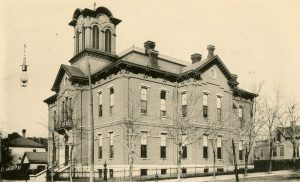 These discoveries made me wonder more about the man himself. Discovering more about him was a little more difficult. The fact that he left Lafayette about 1920 and spent the last two years of his life in Springfield, Missouri probably contributed to his being largely forgotten by the community where he had made such a visual impact. Also he has no living descendants so there was no one to preserve photos or other archival material that is common in many families. His death in Springfield was little noticed. A small obituary which listed his surviving son and two surviving siblings made no mention at all of his accomplishments. That obituary was eventually picked up by papers in Indianapolis and Lafayette where they were more or less republished as they had appeared in the Springfield papers, with only a brief addition mentioning he had been a prominent architect from Lafayette.
Ben Ross was able to add some additional information about known and attributed works of James F. Alexander and his firm including a list of many of his known works, though one suspects both Ben and I have probably missed many when you consider he was in business in Lafayette from about 1873 until 1918 and that he also maintained branch offices in both Indianapolis and Peoria IL at various times. At least one of his structures, the Fraser and Isham Law Office in Fowler, is a National Register property.
Alexander was born in Greene County, Tennessee, the son of William and Maria Henshaw Alexander. Soon after 1850 the Alexander family migrated north into Tippecanoe County Indiana near Romney. In 1857 Maria Alexander died and she is buried in the Romney Cemetery. Sometime soon after Maria's death William and his younger children migrated west to Harrison County Missouri. Although it is not known where James F. Alexander was during the 1860 census it is probable that he remained in the Tippecanoe County area after his father moved west. He enlisted in the 150 Indiana Infantry from Tippecanoe County in 1863 and mustered out in August 1865. He was married in Decatur, IL in 1868 to Alma Waite. In 1870 he and Alma were residing in Champaign, IL and his employment was listed as a cabinet maker. Their first son William C. Alexander was born in Decatur or Champaign in 1869. His second son James Frank Alexander was born in 1874 and it is believed the family returned to Tippecanoe County soon after that. In 1880 he is listed on the census record as an architect.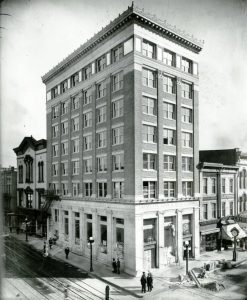 His wife Alma who died in 1912, son William who died in 1925, and son J Frank who died in 1917 are all buried in Springvale Cemetery here in Lafayette. James is buried in the Springfield National Cemetery in Missouri where he died. His grave marked by a military stone, however I'd suggest the Lafayette Life Building also makes an impressive memorial.
James F. Alexander
1842-1922