"Knowledge goes hand in hand with study"
Jefferson High School Nautilus Yearbook – 1925
Delia Silance (c. 1908 – 1984)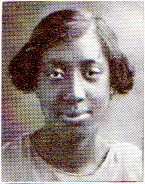 Delia Silance's belief in the power of education led her beyond the limitations of early twentieth century expectations for women. Silance's success as a black woman educator and civic leader likely began with the encouragement and example of involved parents and a supportive local community. Delia Silance was one of Louis and Emma Smith Silance's four children; her siblings included a sister, Ella Belle, and two brothers, Clyde and Louis. Louis and Emma Silance names frequently appeared in the societal news columns of Lafayette's African American community.
Louis Silance demonstrated his own interest in bettering his life and those in his community. As a young man he was a member of the Missionary Society of the African Methodist Episcopal Church, an officer of the Sunday school, a member of two lodges, and a secretary of a society to improve the mind. In later years he was a trustee of the AME Church and supporter of the Sunshine Club. He worked as a cook and a custodian of the Lafayette Club, the Elks' club, and the Lafayette Telephone Co. Emma Silance supported improvements to Lincoln School and encouraged the children to attend Jefferson High School and Purdue University. All four of her children received college degrees; Delia and Ella Belle became educators; Clyde and Louis were pharmacists in Indianapolis.
In the early 1900s prejudices and discriminatory practices discouraged economic opportunities in Lafayette for African American residents. Few black children believed that education beyond grade school provided any financial advantages. A new principal of Lincoln School, Sterling R. McElwaine, who arrived in Lafayette in 1909, however, restored confidence in the benefits of education. In 1916 he helped the parents of Lincoln School organized their first Parent Teacher Organization. Black parents also pressured the local school board to replace an older building (built in 1880) and two portable classrooms with newer facilities. In 1923 a new $54,000 brick Lincoln School opened on 14th and Salem Streets with classrooms, gymnasium and an assembly hall. The school also served as a community center. At the dedication ceremony of the school McElwaine said: "By education we can better our condition." He also stated that enrollment in Jefferson High School increased to 22 black students by 1923 and noted that a black scholar headed the school's honor roll. The Jefferson High School honor student was Delia Silance. As a junior, she earned 4 A+ and 1 A.
Delia Silance attended the black Lincoln Grade School from 1915 to 1921 and graduated from Jefferson High School in 1925. In 1925 she received a scholarship of $50 from the National Association of Colored Women's Club. The award was given annually to the top black graduates of an Indiana high school with a grade average in the ninety-four percentile. Silance used the money to attend Purdue University.
During her time as a Purdue student racial segregation policies prohibited blacks from living in Purdue housing, participating in various recreational activities and access to eating facilities. During her time at Purdue Silance suffered the lost of both of her parents; her father died in 1926 and her mother died two years later. Despite these challenges Silance graduated from Purdue in 1932; she also received the Dean Shoemaker Award for academic excellence. With Dean Shoemaker's encouragement she continued her studies at Purdue and received a M.S. degree in 1933.
With a Masters degree Silance found work in federal WPA programs teaching Spanish, English and history. With her earnings she contributed to her brother Louis' education at Purdue in Pharmacy. In the 1940s Silance left Indiana to teach in Texas and Tennessee, but returned to Lafayette in the late 1950s. Upon her return to Lafayette she found work in the Division of Educational Reference at Purdue; she retired in 1970.
In the 1960s and 1970s Silance was an active social and civic leader. She was a member of the AME Church and president of its Missionary Society. She was also a member of Church Women United and the NAACP. Significantly Silance became a leading force in the Mary L. Club, affiliated with the Indiana State Federation of the National Association of Colored Women's Clubs. The Mary L. Club awarded one hundred dollar scholarships to promising local black high school graduates. Silance believed that investing in young people could be an enduring legacy. Writing about the award, the Hoffman-McElwaine Scholarship, (named after two longtime educators of Lincoln School), she said: "We realize that what we give is of very little significance financially…but we hope that it will serve to be an incentive to the students to do their best in school and to do something worthwhile with their talents and their lives. Just knowing that someone notices and cares about their accomplishments and ambitions can be stimulating." Silence died in Lafayette in 1984.
Reference: Darlene Clark Hine, When the Truth is Told: A History of Black Women's Culture and Community in Indiana, 1875-1950, The National Council of Negro Women, 1981.
"…one of the best known figures in Boilermaker athletic history."
Obituary for Harry Clark, Purdue Exponent, September 20, 1916
Harry Clark (1874 – 1916)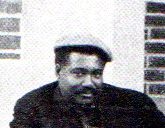 Early twentieth century prejudices and discriminatory practices did not detour Lafayette native Harry Clark from turning his athletic talents into a professional career. As an athletic trainer from 1900-1915, Clark attended to the needs of Purdue football, basketball, baseball and track athletes. Clark was a loyal and reliable presence in the formative years of Purdue athletics.
Born on November 1, 1874 Harry Clark spent most of his life in Lafayette. Clark's heritage included Cherokee and Miami Indian and African American slave lineage. His mother's family had lived in Indiana since the early 1800s; his father was a Tennessee freedman. As a member of Lafayette's small African American community, he attended the black segregated grammar school and worshiped at the Second Baptist Church in the North-End. He would marry, but later divorce; no living children came of the marriage. Clark died in 1916 shortly after the end of his Purdue career and relatives buried him in Springvale Cemetery.
Harry Clark likely came to the attention of one of Purdue's first athletic trainers because of his success as a professional runner in county fairs throughout Indiana. In his obituary the Purdue Exponent called Clark "… one of the best athletes ever developed in Lafayette." "Doc" William J. Hyland, a former successful track athletic, hired Clark in 1900 to be a "rubber" for the Purdue football team.
Under Hyland's tutelage, Clark learned the fundamentals of conditioning athletes. He quickly, however, developed his own techniques and apparatuses to treat and prevent athletic injuries. Clark created a "mask" for a basketball player, a "harness" for Purdue's first All American Elmer Oliphant and a device for a cure of Charley Horses, a common football bruise complaint. In time Purdue also increased his responsibilities to the basketball, track and baseball teams. He assumed managerial duties of the teams and oversaw the upkeep of the football and baseball fields. Clark's reputation with the Purdue teams also lead to Clark's work with a popular Lafayette polo (roller skating) team. Harry Clark's achievements as an athletic trainer brought him professional status and friendships throughout the Big Nine athletic circles.
Harry Clark's loyalty to Purdue's athletes endeared him to students, coaches and faculty. For example, after the tragic 1903 train wreck of the football special to Indianapolis, Clark rushed to the hospitals to tend to the needs of the injured players. Although scheduled to travel with the football team, Clark had missed the train to the game. The young men in the hospital faced months of difficult physical and emotional recovery after losing friends and teammates. (The train wreck injured nearly 40 passengers and killed fourteen players, an assistant coach and an athletic trainer). Clark's presence among the recovering athletes brought a sense of normalcy.
Clark's accomplishments are more the remarkable considering the racial prejudices found in most northern cities in the early 1900s. Both on the Purdue campus and in Lafayette Clark faced indignities. In 1903 and 1904 Purdue students debated the civility of shouting the insult "Kill the N_______," at football opponents who played black athletes. Social custom and tradition denied black participation in most student academic and social organizations. Only one black student, a track athlete, competed on a Purdue team between 1900-1915. Both the faculty and students took part in popular minstrel shows of "black face" humor and songs. A 1907 racially motivated attack against Clark and his response revealed the strength of character necessary to confront bigotry. The Lafayette Daily Journal described the incident. One late summer night on his way to Purdue Clark stopped at a Lafayette saloon to buy tobacco. A customer made a derogatory racial remark to Clark; Clark replied that if the man repeated the remark there would be trouble. As Clark left the saloon, something hit Clark on the back of his head. Two men followed Clark outside and forced him against a telephone pole. Clark knocked one of the men down, but another man from the saloon struck Clark with a club. Clark responded by striking the man with a knife. While Clark faced a charge of an assault and battery, his case was ruled one of self-defense. Harry Clark played an unprecedented role in Purdue athletics for an African American in the early twentieth century.