Special Events
Our Special Events offer exciting and informative ways to immerse yourself in the past. Our Annual Galas allow you to dress the part while raising funds that support the collection, preservation, and interpretation of our community's past, and The Feast of the Hunter's Moon offers residents and visitors the chance to experience a vibrant 18th century fur trading outpost. For more information on these special events, see our calendar of events.
Jul
22
Sat
Civil War Living History Event

@ Tippecanoe Battlefield Museum and History Store
Jul 22 @ 10:00 am – Jul 23 @ 9:00 am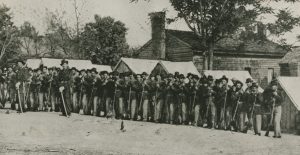 The Camp Tippecanoe Civil War living history event will take place the weekend of July 22 & 23 at the Tippecanoe Battlefield. More than 30 Civil War reenators will be portraying a company of the 72nd Indiana Volunteer Infantry. The regiment was mustered in at Camp Tippecanoe in Lafayette in July of 1862. Reenactors will replicate camp life at Camp Tippecanoe as they muster in and learn the basics of drill and musket firings. Inside the Tippecanoe Battlefield museum, there will be special presentations on aspects of the Civil War scheduled for every other hour. 
Program Schedule:
SATURDAY – July 22
10:00 AM – Recruits march into camp and then election of officers and NCOs
11:00 AM – (Camp Kitchen): "They Marched on their Stomachs: An Intro to Civil War Food and Rationing" – D.J. Tucker, Programs Director, TCHA
12:00 Noon – Issue of weapons followed by drill and instruction of load in nine times; bring everyone together for load in nine times; then firing demonstrations/instruction
1:00 PM – (Museum Program Room): – The life of a Union Civil War soldier – Craig Hadley, Executive Director, TCHA
1:00 PM – Period food mess call for the soldiers
2:00 PM – Close order drill and manual of arms
3:00 PM (Museum Program Room):– Camp Tippecanoe – Craig Hadley, Executive Director, TCHA
4:00 PM – Bayonet Drill"
SUNDAY – July 23
10:00 AM – Inspection of troops
11:00 AM – Period Church Service
NOON – Event over